Download (What is Man?) Ancient Mantles By Apostle Arome Osayi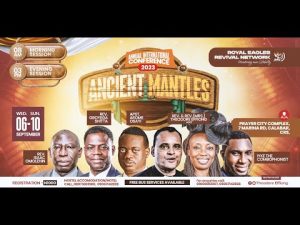 Ancient mantles by Apostle Arome Osayi part 1 and 2 were sermons preached at Royal Eagles revival network with theme ancient mantles.
Apostle Arome Osayi explained the theme from the approach of answering the question what is Man. What is man that God is mindful of him and son of man that He cares for him.
Ancient mantles rest on men who have found essence in Christ and come to understand truth of God. Ancient mantles are for service and it's means of revival.
There are lots of things to learn from this sermon what is man? Or Ancient mantles by Apostle Arome Osayi.
Click on the links below to download the following recommended audio  messages