September To Remember Day 1: Correcting The Error By Apostle Johnson Suleman mp3 Download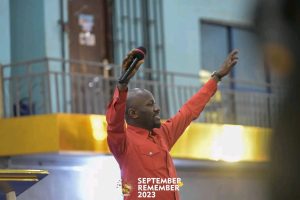 Correcting the Error by Apostle Johnson Suleman was the day one evening session for September to Remember 2023 messages. The highlights of the sermon im on correcting the error by Apostle Johnson Suleman is listed below.
Text: Hebrew 11:24
Topic: CORRECTING THE ERROR
"In Life, You Will Discover What You Are Born To Be Or What You Are Made To Be"
"When There Are Battles In Your Life, You Must Check Your Ancestry
Before You Face Your Battle, You Must First Check Your History"
"The Battles Of Your Life Is Because Of The Oil Upon Your Life
Your Current Situation Is Not What You Are Born To Be"
"Don't Take Permanent Decision On Temporal Situation
You Grew Up To See A Pattern In The Family, Does Not Mean You Must Agree With It""Anything You Are Going Through Now Is What You Are Created To Change
Everyday That Passes Is Asking You A Question, When Will You Manifest"
Click on the link below to download the audio message on correcting the error by Apostle Johnson Suleman during the September to Remember 2023 conference.
Download Apostle Johnson Suleman 2023 Messages [All Audio Mp3]
Click on the link below to download the following recommended audio sermons for you