Audio message 2023: Good Success By Apostle Joshua Selman Download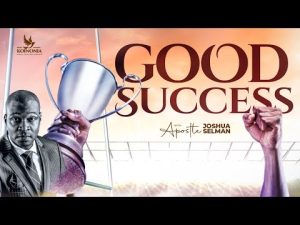 Success by Apostle Joshua Selman was reached during the two days of supernatural encounter in 2023 at Koinonia Global Zaria.  It was indeed an encounter as Apostle Joshua Selman exposed some dimensions of God to the body of Christ.
Success is good but having success is when you follow the light of the scriptures. The Bible says in Joshua 1:8, says that this book of the law (the word of God or the commands of the Lord)   should not depart from your mouth,  you shall meditate on it day and night.  Through its medication and application, you will find success.
What is success? This is the fulfillment you get in accomplishing what the Lord says about your life as prescribed by the scriptures.  Good Success is not achieved if it's not according to what God's word said.
Success is achievable. Do you want to know more?  Click on the link below to download the audio message having success by Apostle Joshua Selman at Koinonia Zaria, a supernatural encounter on 13th April 2023. There were prayers and impartation by the word of God.
Recommended sermons for you.