Koinonia Message On 16th Sunday,  2023: Freedom From Financial Captivity By Apostle Joshua Selman mp3 Download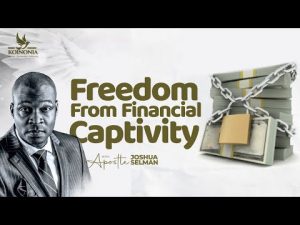 Freedom From Financial Captivity By Apostle Joshua Selman is a. Message that gives you principles of financial flow and freedom from poverty. Below are the highlights of the sermon.
Wealth, prosperity and abundance have a threefold assignment in a Believer's life. They:
1. Empower you to live a comfortable life.
2. Help you contribute to Kingdom advancement.
3. Empower you to become a blessing to a dying world in a definite and practical way.
Five keys to Freedom From Financial Captivity:
1. A heart for God.
(2 Chronicles 26:5)
2. Mental Transformation:
The sustainability of wealth is a product of intelligence and mental transformation. Mental transformation is not a gift; you buy the truth. You will never rise above your mindset. Philippians 2:5 (KJV)
3. Productivity.
4. Strategic Relationships.
5. The Power to Prosper.
The power to prosper is a supernatural engracing, that comes upon your spirit and your mind, granting you the ability to provide supernatural solutions.
Three requirements for success:
1. Value
2. Strategic relationships
3. Character
Factors responsible for poverty present amongst Believers:
_
1. Ignorance or incomplete knowledge of God's financial system.
2. The absence of value that is needed and useful.
3. Lack of Productivity and Excellence.
Productivity is the ability to translate your value into products and services that are packaged and served with excellence to a targeted customer base.
Daniel 5:12-14 (KJV).
4. The absence of strategic relationships.
All blessings come from God, through men, to men. Strategic relationships can help to strengthen your faith in God.
5. Absence of Spiritual Empowerment (Deuteronomy 8:18)
6. Impatience.
(Proverbs 13:11).
7. Laziness.
(Proverbs 20:4).
Click on the link below to download the audio message on freedom from financial captivity by Apostle Joshua Selman.