Download Greater Works Part 2 By Apostle Joshua Selman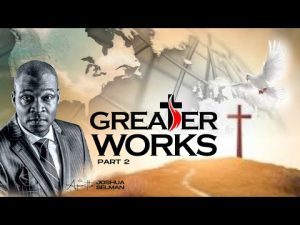 Greater works part 2 by Apostle Joshua Selman was the continuation of Koinonia Global message by the Setman of the ministry. The highlights of the sermon greater works part 2 by Apostle Joshua Selman are stated below:
Two Reasons Why We Need Faith In Our Walk With God:
1. There are realities beyond the scope of our sight and science. (Colossians 1:16-18).
The Bible emphasises that there are things visible and invisible, with "invisible" not implying unreality.
2. Faith commits God in the affairs of men. (John 11:40, Luke 1:37)
It has a unique ability to commit God in the affairs of our lives.
Channels for Expressing The Prophetic for The Believer's Profiting:
1. The Word of God. (2 Peter 1:19).
2. The Ministry of The Holy Spirit. (John 16:13, 1 Corinthians 2:10).
3. The Ministry Gift (The Prophetic).
(Ephesians 4:11-12).
4. The Force of Wealth and Abundance:
(Zechariah 1:17, Deuteronomy 8:18, Matthew 28:1-15)
Wealth and abundance have, since time immemorial, played a unique role in shaping civilisations, either promoting evil or fostering good.
Whenever you observe any form of societal advancement or civilisation, wealth invariably, plays a significant role behind it.
5. The Force of Influence. (Matthew 5:14)
Influence is power. Influence and money are related; they shape civilisations, influence people's thinking, and define people's values at various points.
6. The Force of The Prophetic (Exodus 17:8-15).
Click on the link below to download the audio message file on greater works part 2 by Apostle Joshua Selman.
Download Apostle Joshua Selman Messages 2023
These below are recommended audio messages for you.