[Audio Message] Knowing Money By Pastor Paul Enenche mp3 Download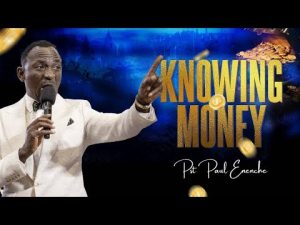 Knowing money by Pastor Paul Enenche was a Sunday service of 25th June,  2023. It is necessary to know the person of money.  What do you know about money? Whatever wisdom can get,  money can get also,  but the excellency  and superiority of wisdom is that it gives life but money can not.
The person of money is captured in the name mammon. The love of money is what births evil. Money is good, having money is good but when money owns you, it becomes a sin.  Money should be a servant to you.
Knowing Money By Pastor Paul Enenche is a sermon that exposed the person of money and the things you should know about money.  Money is to serve kingdom purposes. There are principles of money, making money and acquiring wealth.
The knowledge of this sermon is powerful and you can get the knowledge by downloading and listening to the audio message. Click on the link below to download the audio message on Knowing Money By Pastor Paul Enenche.
Download Here
Click on the links below to download the following recommended audio sermons.