Audio Message On Know Your Friends By Dr Paul Enenche mp3 Download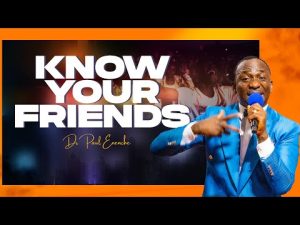 Know your friends by Dr Paul Enenche was a Wednesday power communion service of 21st June,  2023. A friend is one who sticks close than a brother and who knows your secrets. Friends are destiny supporters.
Jesus Christ said in John 15:15-16, He chose us and called us friends because he has shown to us all that the Father have given Him. Friends are custodian of secrets and therefore you must know who you call friend.
Know your friends because not everyone is your friend.  Friends sharpens each other. David and Jonathan were friends that could defend themselves even in the face of death.
Know your friends by Dr Paul Enenche gives us enlightenment on how to know our friends.  The sermon also delievers knowledge on the aspect of how to keep friends. Do you know your friends?
Who are your friends?  Friends should help each other to know God and discover purpose. There are a lot of things to learn,  click on the link below to download the audio message on know your friends by Dr Paul Enenche.
Download Here
Click on the links below to download the following recommended audio sermons.