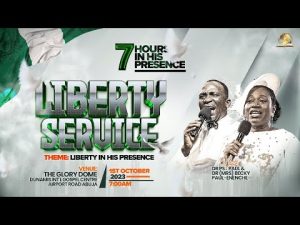 Libeety in His presence by Dr Paul Enenche was the Subday service message during the 7 hours in His presence on 1st October, 2023. In His presence is the fullness of joy and liberty.
God is a the Lord of Hosts and no captivity exist in Him. The Spirit of the Lord grants liberty to all who come to His presence.
Pastor Paul Enenche message on 1st October 2023 was an attempt to praise God for preserving His Body, the nations and to raise prayera for more liberty.
Click on the link below to download the audio message on Liberty In His Presence by Dr Paul Enenche.
Click on the links below to download the following recommended audio messages