Download How Nations Become Great By Apostle Joshua Selman (A New Nigeria)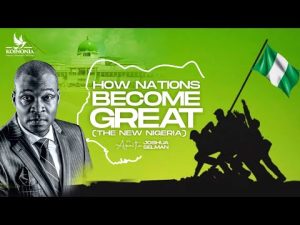 How Nations Become Great By Apostle Joshua Selman (A new Nigeria) was Koinonia Global sermon on 1st October, 2023. The sernon was in honor of Nigerian's independence day celebration. The highlights of the sermon How Nations Become Great By Apostle Joshua Selman are below.
Principles that make Individuals, Families, and Nations Great:
1. Vision (Proverbs 29:18)
Vision is the ability to see things as they ought to be, not just as they are, alongside the determination to bring that picture to manifestation.
_
Merely having a wish for a better future is not a vision, but a well-structured imagination.
Three-fold Dimensions of Vision:
1. History
You must understand history to be a visionary nation or person; it helps us to connect the past and come up with resolutions. Families, individuals, and churches must understand their history. History helps us to correct, retain, and improve.
2. Destiny
No nation becomes great without a clear picture of where it is going.
3. The Unity component of Vision
It is impossible to have unity without vision. A vision must be clear enough to allow individuals to give up their agenda and pursue a set goal.
2. Values (Policies). Proverbs 25:28
A nation is changed to the degree to which it has values.
Values lift men; Values define people's idea about life and it gives them a template for living and conducting their lives.
3. Education (Job 32:8, Daniel 1:3-4,17-21)
Education is the ability to read, write, communicate effectively, think constructively, and then use the knowledge acquired to birth solutions.
4. Leadership (Zechariah 13:7, John 10:11)
Leadership is the ability to coordinate human and material resources, to achieve a common and predefined goal.
5. Economic Empowerment.
No Nation can be economically liberated with a dependency mentality.
Every great nation is empowered economically through its private sector. A dependency mentality can destroy a nation.
6. A Robust Security Architecture
One way to define a great nation is by the kind and quality of the security systems put in place.
Protecting the lives and properties of the citizens is one of the primary assignments of a nation.
_
7. An Honour to Spirituality (Psalm 33:12, 95:3, 2 Chronicles 15:12-15)
Spirituality is the key influencer of values, morals, and actions. People will always build values to reflect and honour their spiritual dispositions.
How nations become great (a new Nigeria) by Apostle Joshua Selman mp3
Download Apostle Joshua Selman Messages 2023
Click on the followinf audio messages that are recommended to you.