[Audio Message]: THIS IS THAT BY APOSTLE JOHNSON SULEMAN mp3 Download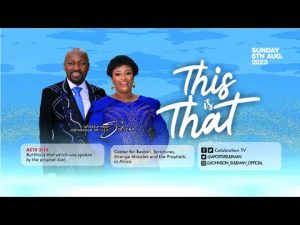 This is that by Apostle Johnson Suleman was the first Sunday sermon in August. It was an anointing service. The sermon topic is about the Holy Spirit. The highlights of the sermon this is that by Apostle Johnson Suleman is stated below.
Topic: THIS IS THAT
Text: Acts 2:16
Preacher: Apostle (Prof) Johnson Suleman.
"This Is It" Simply Means Handling With Your Hands Those Things That The Lord Has Spoken.
"Expectation Is The Mother Of Manifestation; In Your Challenges Are Found Your Answers.
Some Things Will Not Happen In A Man's Life Until He Makes Himself An Asset."
SIGNS OF A BELIEVER:
1. Speaking In Tongues
– Speaking In Tongues Helps You Build Your Faith And Build Yourself.
2. Breaking Limits
– The Holy Ghost Helps You To Break Restrictions And Limits.
– There Is A Level Of Loyalty That Makes A Man Contact The Spirit Upon The Prophet.
3. Outpour Of The Spirit
– The Outpour Of The Spirit Takes You Out Of Hiding.
Click on the link below to download the audio message on this by Apostle Johnson Suleman.
Download the prophetic session with Apostle Johnson Suleman
The sermon topics below are recommended audio sermons for you, click on them to download.