Download SPIRITUAL BIRTH By APOSTLE JOSHUA SELMAN (PENIEL 2023 ANGLICAN DIOCESE OF JALINGO TARABA-NIGERIA)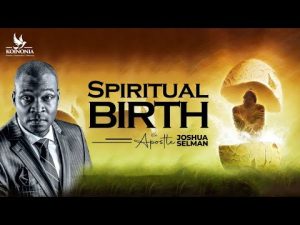 Spiritual birth by Apostle Joshua Selman was the sermon he preached at Peniel 2023 conference at Anglican Diocese in Jalingo,  Tatiana State, Nigeria.
Spiritual birth is being born again or being regenerated in your lost spirit man to God.  It is a realignment to the source of life which is God through Christ by the Spirit of God.  Apostle Joshua Selman explained clearly the meaning of spiritual birth,  how to progress as a Believer and other things that pertains to advancement as a Believer.
Click on the below to download the audio message on spiritual birth by Apostle Joshua Selman.
Download Here
Spiritual Birth mp3 by Apostle Joshua Selman
The list of these sermon titles below are recommended audio sermons for you to check out for download.