RCN Ministers Conference 2023: Download All Audio
Messages On The Heavenly Vision By Apostle Arome Osayi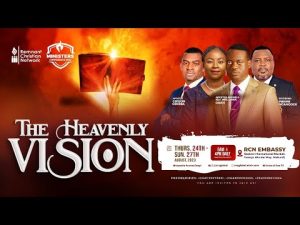 Heavenly vision Apostle Arome Osayi was the theme of the 2023 RCN Minister's conference. The conference was organized to equip Ministers and to instruct them to stay connected to the vision of the Lord about ministry.
In the minister's conference, the main preachers were:
1) Apostle Arome Osayi
2) Apostle Gideon Odoma
3) Apostle Pierre Ngnangock (Guest Speaker from Cameroon)
The audio messages of the 2023 RCN minister's conference on the the heavenly vision by Apostle Arome Osayi and others Preachers are available on this page got download.
Click on the links to download all messages on heavenly vision by Apostle Arome Osayi, and others here.
Click on the links below to download the following recommended audio messages for you