Download Destroying The Little Foxes By Apostle Johnson Suleman Part 2 mp3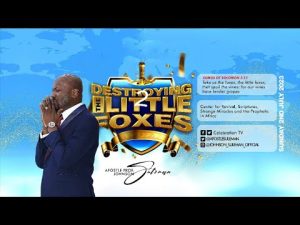 Destroying the little foxes by Apostle Johnson Suleman Part 2 was the second audio sermon series on 2nd July 2023. The highlights of the sermon are listed below:
Topic: DESTROYING THE LITTLE FOXES (Part 2)
Text: Songs of Solomon 2:15
Foxes To Destroy In Your Life:
The following are the little foxes to destroy in your life before they devour your destiny.
1. Giving up easily. Do not give up in circumstances, rather let the give up for you.
2. Wrong attitude to money. Your perception of money should change.
3. ignoring the power of
family wickedness. There is household wickedness you should not ignore. For instance, the family's foundational issues.
4. Bitterness
– Hebrews 12:15
– Some People Are Bitter Against God, Against Themselves, not Other People.
– Bitter People Are Never Satisfied.
– Bitter People Always Attract Themselves.
– Bitterness Always Go For Anointed And Talented People.
How To Cure Bitterness:
I) Refuse To Be Offended
– When You Are A Person Who Easily Gets Offended You Will Suffer From Bitterness.
– Train Yourself Not To Take Things Too Personally.
"Bitter people don't truly love each other, they are just together because they have someone they don't like."
Ii) Avoid Bad Company
– Having The Wrong People Around You Amplifies The Tendencies Of Bitterness.
Iii) Ask God For Help
– Even When You Get Angry Ask The Holy Spirit To Help You Forgive So That Bitterness Will Not Be Birthed In You.
Click on the link below to download the audio sermon on Destroying the little foxes by Apostle Johnson Suleman.
Download Destroying Little Foxes By Apostle Johnson Suleman part 1
Destroying Little Foxes By Apostle Johnson Suleman part 2
Click on the links below to download the following recommended audio sermons