[Audio Message] What Is Man By Apostle Arome Osayi Part 1 & 2 mp3 Download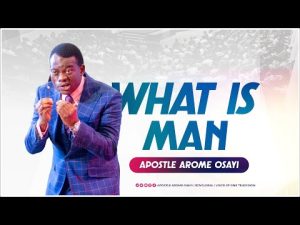 What is Man by Apostle Arome Osayi was two-part audio series he did during one of his international missions. The Bible asks a question on this subject: what is the man that thou are mindful of, the son of man that thou cares for him?
The level of care that God has for everyone is a wonder to any spiritual being that sees it. What is the man that the Almighty God cares for him and visits and ponders on his paths always? There is something about the man that we need to understand so that we can reciprocate our love to Him.
Click here to download all International Eagles Conference 2023 Messages With Apostle Arome Osayi
Man is an extension of God's embassy on Earth. Although created with the dust of the Earth, he was created after the image and likeness of God. He carries the Spirit of God and functions like Him. He was given the authority to represent God on Earth.
The Angels saw how God cares for man and asked the question: what is the man that God cares for him? When you consider how merciful God shows to man, you will know the level of love He has for man, to the extent of giving His Son for their sins. We need to love Him back and live for His pleasure. The rest of the uniqueness of man will be found when you listen to the audio sermons on what is man by Apostle Arome Osayi.
Click on the link to download the audio messages on What is Man by Apostle Arome Osayi parts 1&2.
Download Part 1
What is man part one mp3 by Apostle Arome Osayi
Download Part 2
What is man part two mp3 by Apostle Arome Osayi
Click on the following links below to download the recommended audio sermons: