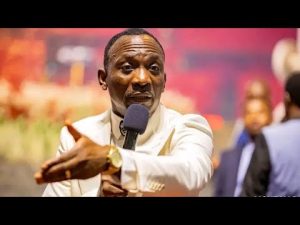 Dominating by His Voice And Direction by Dr Paul Enenche was
May 2023 Destiny Recovery Convention Day 2 Evening Session.  The data was on 24/05/2023. The voice of God is majestic and gives direction.
The Bible says the men of Issachar were men of understanding and they had the understanding of time on what Isreal ought to do and their brethren was at their command.
Believers rule or dominate by voice of God because they understand His voice and know the times of God's movement and lead the world to the direction of God.  When you understand the voice of God,  you will gain understanding of His direction,  thereby making all to depend on you because you know the way.
This happens leadership.  When you know the voice of God,  you will lead your generation into the glorious destiny in Christ. Click on the link below to download the audio message on Dominating By His Voice And Direction By Dr Paul Enenche during the May 2023 Destiny recovery convention.
Download Here
Download Dominating By Blessing By Dr Paul Enenche
Click on the link below to download the following recommended sermons for you today.