Download Dominating By Blessing By Dr Paul Enenche Mp3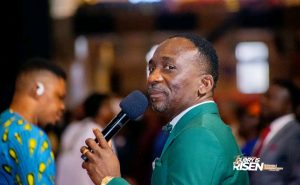 Dominating by The Blessing by Dr Paul Enenche was the message preached during the May 2023 Destiny Recovery Convention (Day 2 Morning Session). The conference theme was on dominating the space you were assigned.
There are several things or platforms that Believers are designed to implement the subject of dominion in their environment.  Pastor Paul Enenche message on dominating blessing specified one to be blessings. The blessings of God makes one rich and adds no sorrow. Believers are designed to dominate by blessings.
The blessings of God are evidence to the world that there is a God that gives heavenly things that adds no sorrow to the heart.  God through the person of Christ Jesus has provided us everything that pertains to life and godliness that we should return all praises and honor to Him. Through the blessings of God we can dominate our sphere of influence.  Do you want to know how to dominate your environment by the blessings of God? Click on the link below to download the audio message on dominating by Blessing by Dr Paul Enenche.
Download Here
Recommended sermons for you, click on the links to download all.