Download Kingdom Utensils By Apostle Arome Osayi (1-3) mp3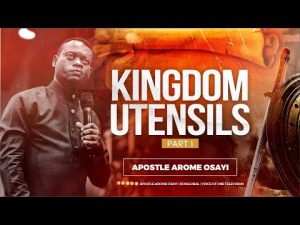 Kingdom utensils by Apostle Arome Osayi part 1,2 &3. There are certain equipment that God gives His people in order to make them live effectively. A utensil is an instrument used for service.
These kingdom utensils are considered intangible and He gives it to all who desire to walk with Him and prosecute His counsel.
Anyone who wants to be in the service of the Lord needs these kingdom utensils. We can consider power and authority as a kingdom utensil.
Apostle Arome Osayi messages on kingdom utensils part 1,2 & 3 revealed God's intentions for His church. The Bible speaks on he that cleanses himself, will be used for honorable use.
The gifts of God requires consecration and must be maintained of you desire sustainance. You must consecrate yourself to be able to be used by God. Click on the links below to download the audio messages on kingdom utensils by Apostle Arome Osayi.
DOWNLOAD PART 1
DOWNLOAD PART 2
DOWNLOAD PART 3
Recommended sermons for you.