[Audio message] Predestined Unto Glory By Apostle Joshua Selman part 1 &2 mp3 Download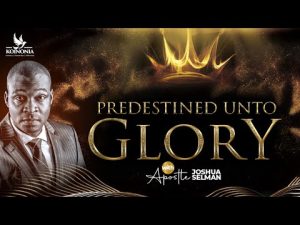 Predestined unto glory by Apostle Joshua Selman part 1 and 2 were audio sermons which he preached during the  Word Conference 2023 at Upper room cathedral,  Yola, Nigeria.  The two path message series focused on several things.
The first part is on pathway to exploit and those that do know their God shall be strong and do exploit.
The second part of the message is on the training upper room.  And they all gathered in one mind and in one place praying to God and this Thanksgiving.
Our cooperate mandate is in Christ.  Our predestination is something that has been in eternity past.  And currently,  we have faith and have been justified.  Our predestination in Christ Jesus and we were included in Him for his glory.
Click on the link below to download the audio messages on predestinate into glory part 1&2
Download Part 1
Predestined unto glory part one
Download Part 2
Predestined unto glory part two
Click on the link below to download the following recommended sermons for you