Koinonia Global Sermon: The Afflictions Of The Righteous By Apostle Joshua Selman Mp3 Download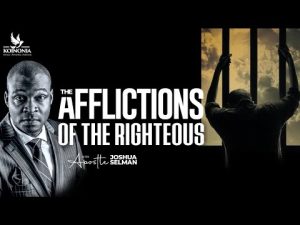 The afflictions of the Righteous by
Apostle Joshua Selman was sermon in Koinonia Abuja Sunday Service on 04th June, 2023. The Bible says that afflictions shall not rise the second time and that our light afflictions are but for a moment and they are working for us a far more glorious things in God.
This statement above clearly answers that it's good for Believer to pass through some levels of affliction because it's in them that the glory of God is revealed to disconfit the devil.
Victory is certain and we must walk in it for many are the afflictions of the righteous but the Lord (Christ) delivers them all.
Below is the highlights of the sermon the afflictions of the Righteous by Apostle Joshua Selman.
↣ As believers, we are called to live a life of victory. (1 Corinthians 15:57)
↣ The basis for the believer's victory in the Kingdom, is the finished work of Jesus Christ.
↣ The Bible clearly states that believers will experience affliction, losses, pains, and challenges in life. (Psalm 20:1-5)
↣ God's integrity backs His Word, giving us confidence in His promise to never fail.
↣ very situation possesses the ability to perceive and comprehend the voice of God.
Download the download bottom below and the audio files on the afflictions of the righteous by Apostle Joshua Selman will automatically start downloading.
Download Here
The afflictions of the righteous by Apostle Joshua Selman mp3 audio files
Click on the links below to download the following recommended sermons to you