[Audio mp3] The Spirit Of Adoption By Apostle Arome Osayi Download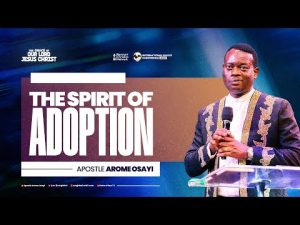 The Spirit of adoption by Apostle Arome Osayi was one of those audio messages that was preached during 2023 International Eagles Conference at Makurdi,  Benue State Nigeria.  From the book of Roman's chapter 8, we see that Apostle Paul spoke on the redemption of our bodies that that we can be free to deliver creation.
Through Christ,  we have received the spirit of adoption that makes us Abba,  Father.  The Spirit of adoption made it possible for us to be included in Christ and as the sons of God.  Through disobedience we were far off from the commonwealth of eternal salvation but through grace by the love of the father,  mercy was shown to us to enjoy the heavenly blessings in Christ.
So we have be adopted in Christ by Christ Jesus through the love of the Father by the grace of God. Do you want to know more about the Spirit of adoption? Click on the link below to download the audio message on the Spirit of adoption by Apostle Arome Osayi.
Download Here
The Spirit of Adoption by Apostle Arome Osayi
Click on the links below to download the following recommended sermons for you.