Download Strategies For Soul Winning By Apostle Michael Orokpo mp3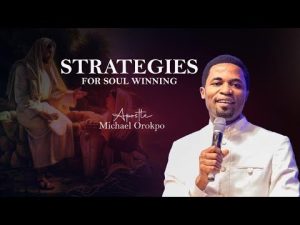 Strategies for soul winning by Apostle Michael Orokpo was a sermon on the Thanksgiving Sunday service that teaches on soul winning.  Bringing souls or saving souls for the kingdom of God is a very important assignment for all Believers.
Jesus gave the church two mandates which are preaching the gospel to save men and to disciple or equip them to become like Him and leave  pleasurable like unto Him.
The reasons why Soul winning is important:
The following are the reasons for soul winning :
Jesus Died for sinners and to save them.
we are saved so as to save others.
Soul winning is primary purpose for kingdom empowerment.
Soul winning is God's primary business. soul r
Strategies For Winning Souls for the kingdom of God
Prayers
Discipleship
Invasion
Program of placement
Budget for soul winning
Benefits Of Soul Winning
Activates the supernatural
Triggers supply
Provokes wisdom
Facilitated Maturity
Builds up eternal rewards.
Now click on the link to the download the audio message on Strategies For Soul Winning By Apostle Michael Orokpo.
Recommended Audio Messages For You.