FGBMFI Conference 2023: The Wisdom Of Egypt By Apostle Joshua Selman mp3 Download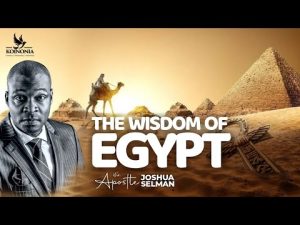 The Wisdom of Egypt by Apostle Joshua Selman was the sermon or business teaching during the Full Gospel Businessmen Fellowship International conference in July 2023 at Accra Ghana. The event is a yearly program, where businessmen gather to seek God and His empowerment.
FGBMFI is an association and fellowship of Christian businessmen, who are interested in establishing the kingdom of God in the sphere of influence. Apostle Joshua Selman is this year FGBMFI taught them on the wisdom of Egypt which will help them sell and maximize profit for the kingdom. For those that do know their God shall be strong and do exploit.
According to Apostle Joshua Selman, there are three wisdom or principles upon which the kingdom of Egypt is established in the area of business. Apostle Joshua Selman established these principles from the scriptures.
In the sermon, the wisdom of Egypt by Apostle Joshua Selman, one of the principles upon which the business hub of Egypt was built was value and productivity.
There are other principles you will learn from the sermon. There was also an empowerment session for greater exploits. Click on the link below to download the audio messages on the wisdom of Egypt by Apostle Joshua Selman.
Download Here
First session: The wisdom of Egypt by Apostle Joshua Selman
Download second session
Empowerment for service by Apostle Joshua Selman
Business and leadership session with Apostle Joshua Selman mp3 at FGBMFI 2020
The links below are the recommended audio sermons for you.