The 7 Spirits Of God By Apostle Arome Osayi mp3 Download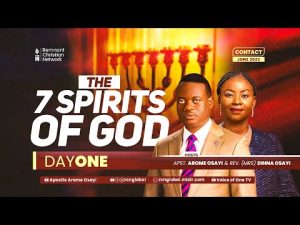 The 7 Spirits of God by Apostle Arome Osayi was a teaching series that started in the 2023 International Eagles Conference at RCN.  Apostle Arome Osayi started the teaching and promised the participant after the message.
Initially,  the thoughts about the 7 Spirits of God centered on the book of Daniel which includes the spirit of wisdom and understanding.  Truly speaking,  the teaching does not contradict this thought but the teaching took a different shape.
According to the book of Revelation, the 7 Spirit of God are the 7 Golden lamps, and before the LORD. According to the teaching,  the 7 Spirits of God as listed by Apostle Arome Osayi are:
The Spirit of Grace
The Spirit of life
The Spirit of truth
The Spirit of Holiness
The Spirit of glory
All these dimensions of the Spirit of God have their significance when you listen to the audio messages on the 7 Spirits Of God by Apostle Arome Osayi.
Click on the links below to download the following audio mp3 files on the 7 Spirits of God by Apostle Arome Osayi during the RCN June 2023 Contact meeting.
Day one-morning session by Apostle Arome Osayi
Day 2 Morning session by Apostle Arome Osayi
Day 2 Morning Session by Apostle Arome Osayi
Miracle and healing service by Apostle Arome Osayi (Grand Finale)
Download International Eagles Conference 2023 Messages With Apostle Arome Osayi
Click on the following links below to download the following audio sermons