[Audio Sermon]: The Mystery Of Opportunity By Apostle Johnson Suleman mp3 Download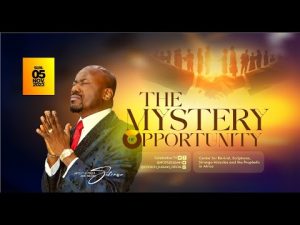 The mystery of opportunity by Apostle Johnson Suleman was the Sunday sermon for the divine connection service of the month of November 2023. The following below are the highlights of the sermon on the mystery of opportunity by Apostle Johnson Suleman.
Text: Matt. 25:15-28
Topic: THE MYSTERY OF OPPORTUNITY
"Everyone Is Born With Something Invested In Them."
"No One Should Die Without Having Been Productive And Useful On Earth.
Everything You Need To Be Productive, To Succeed In Life, Has Already Been Invested In You Since Your Creation."
"Everyone Is Born The Same, Everyone Has Talents And Skills, And Your Opportunities Depend On What You Do With Your Skills And Resources."
"God Has Given You Gifts And Talents To Serve God With. There Is A Deep Relationship Between Your Gifts, Talents, And Service; The More You Use Your Gifts The More You Perfect Them And Make Them Multiply."
"Any Gift That God Has Invested In You Is 100% Productive When You Use It To The Full.
Gratitude Or Recognition Is An Act Of Greatness
God Endows You With Gifts And Talents Because There Are Problems That You Were Created To Solve."
How To Maximize Opportunities:
 Stop Giving Excuses
– Turn Your Excuses To Uses.
– In The Kingdom, Anything You Are Afraid To Release To God You Will Lose It In Life.
"The Quality Of Your Service Is Much More Important Than The Service Itself Because Your Rewards Depend On The Quality Of The Service You Offer Through Your Gifts And Talents."
Click on the link to the download the audio message on the mystery of opportunity by Apostle Johnson Suleman.
Download All Apostle Johnson Suleman Messages (Updated Till Date)
Click on the links below to download the following recommended audio messages for you