Deliverance From Calamities by Apostle Joshua Selman mp3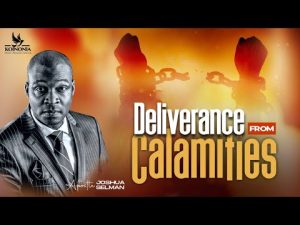 Deliverance from calamities by Apostle Joshua Selman was the Koinonia Global message on 05/11/2023 at Koinonia Global Abuja.  The highlights of the audio message on deliverance from calamities by Apostle Joshua Selman are below.
What is a Calamity?
– A calamity is defined as a great misfortune or disaster.
– A calamity is defined as an event marked by great loss, distress and suffering.
The End-time demands that your sensitivity is heightened, to survive the days coming, because even the devil can appear as an angel of light.
There are two principal ways to build discernment:
1. The knowledge of the ways of God, as revealed in Scripture.
2. Praying in The Spirit, helps build capacity to discern.
Ways to Keep Everything God gives You:
1. Pray
2. Express gratitude
3. Become an active contributor to that process.
Many people have abused their relationship with God, with men and have abused the laws of the kingdom.
People exhibit bad manners and undue familiarity, failing to recognize that yesterday (the past) doesn't define today (the present). It's crucial to adapt to the present reality, especially when someone you once knew has achieved greatness.
Anything that is an advantage in your life is worth protecting.
Ignorance of spiritual laws does not exempt you from the consequences of violating them. Lacking in understanding of these laws, will inevitably programme calamity. Being unaware does not stop presiding altars and curses from working.
Download All mp3 of Apostle Joshua Selman Messages 2023 (Both in Koinonia and Conferences
Click on the links below to download the following recommended audio messages for you