Download All Series on Foundations By Apostle Arome Osayi (1, 2,3…)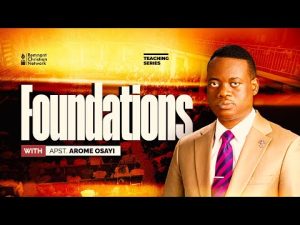 Foundations by Apostle Arome Osayi is a teaching series. Foundations is the bedrock or building block of life. When foundations are not solidified, building or structure collapses.
There are different foundations that Apostle Arome Osayi xrayed. The Bible says when the foundation are destroyed, what can the righteous do? Foundation in this context referred to beliefs systems of life.
There are people with faulty foundations or belief which has made their lives lose strength and in the days of adversity, collapsing was inevitable. One way to build foundations or strong convictions in the application of the word of God. Being commended to the word of God build you up.
Also foundations can come in the area of early covenant with darkness. Foundations by Apostle Arome Osayi explained the critically on the issue of demons on foundations.
There is one sure foundation in life and that is Christ Jesus. He is the only one suitable to be in your life and rule over you. Click on the link below to download the teaching series on foundations by Apostle Arome Osayi part 1,2,3…
Recommended sermons for you