Download Spiritual Gifts By Apostle Arome Osayi (1,2 &..) mp3 series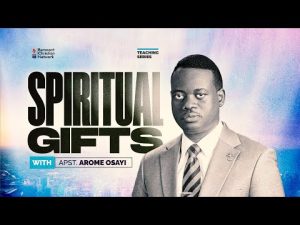 Spiritual Gifts By Apostle Arome Osayi is a teaching series on the gifts of the Holy Spirit and other spiritual gifts.  The Bible was clear enough on the matter of spiritual gifts.  Everyone is given a spiritual gift that came as a result of your submission to Christ.
The Bible records that the gift of God are without repentance. The spiritual gifts are impacted,,  grown or nurtured for usage.  What is the necessity for spiritual gifts? Spiritual gifts are necessary because the are used for the service of God.
Notice that you can not do God's work without His implements. So the Lord equips every Believer with what could be used in his or her service to God.  The gifts of God are to profit without,  it's is for the edification of the church and to bringing the lost to the kingdom.
There are nine spiritual gifts or and other gifts of the Spirit. God expects us to grow them with the help of the Holy Spirit. As we use them,  they grow.  The audio messages on spiritual gifts by Apostle Arome Osayi were deeply and clearly explained.
You can click on the links below to download the audio messages on Spiritual Gifts By Apostle Arome Osayi part 1, 2 and others.
Download part 1 Here
Download part 2 Here
Recommended sermons for you
Click on the link below to download these recommended messages.