Download LET THERE BE LIGHT by Apostle Joshua Selman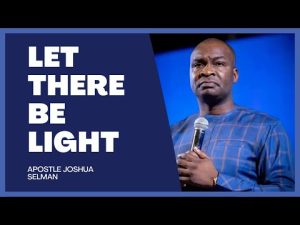 Let there be light by Apostle Joshua Selman was an audio message at Light Up DMV at RCCG North America Washington, USA. The theme of the conference was let there be light.
.
When Jesus shines, there will be light, where the light of the life of Christ is manifested through the life of men, His light is shone to the place. The life of Christ in us is the light that shines in the darkness.
Jesus walked through the shores of Zebulun by the way of the sea, Galilee of the Gentiles, and those that sat in darkness saw a great light.
Where the spirit of God is, there will be light. The excerpt of the message is listed below:
Light Up DMV
North America Washington USA
*Exercpts*
◉ One counsel of the spirit in the place of encounter can redefine the next 20 years of your life.
◉ A great Job minus God is only a circulation of frustration coming.
◉ The presence of God and spiritual things is not an interruption to your becoming great, it is the reason why you become great.
◉ Encounters are platforms for accuracy.
◉ When you ignore the anointing of the holy spirit, your life will never be supernatural, you will never in truth be a sign and a wonder.
The audio file is now available, click on the link to download the message on let there be light by Apostle Joshua Selman.
Download Here
Let there be light audio mp3 by Apostle Joshua Selman
Click on the links below to download the following recommended audio messages.