IEC 2023 DAY 2 morning Session: The Poles Of Grace By Apostle Arome Osayi Download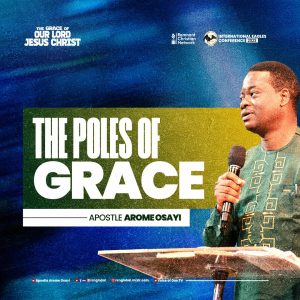 The poles of grace by Apostle Arome Osayi was the day 2 morning session charge during the IEC 2023 or International Eagles Conference 2023. The theme of the conference remains: The grace of our Lord Jesus Christ.
There are cardinal poles of the grace of God as explained by Apostle Arome Osayi during IEC 2023. The audio message captured the vivid explanation on the subject of grace and the two poles of grace.
The grace of God is a enabler,  it teaches and also provides access for God to do exceedingly what He has provided us by, through and in Christ Jesus.  Holding fast your faith in Christ Jesus and utilizing the grace with His is full of gives you the enablement to be a victor.
Apostle Arome Osayi explained the subject clearly.  You can click on the link below to download the audio message on the poles of grace by Apostle Arome Osayi during the International Eagles Conference Day 2 morning session.
Download Here
Day1 Evening session: The Economy Of Grace By Apostle Arome Osayi
Recommended sermons for you,  click on the link below to download all