Download The Revelation Of Jesus By Apostle Michael Orokpo part (1&2)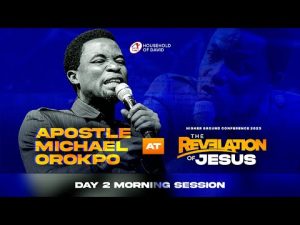 The revelation of Jesus by Apostle Michael Orokpo was a sermon he delivered at House of David a Church in Nigeria during their September, 2023 conference. Watchman Nee started in his book that the revelation of Jesus Christ is not a doctrine but a revelation.
Jesus Christ is revealed to anyone who desires Him. Christ is revealed commonly through His word, with the Spirit of revelation, you can know the person of Christ.
Jesus desires that everyone know Him personally and walk with Him in holiness. He is the express image of God and the head of the Body which is the church.
You can get the revelation of Jesus as you continue in prayer and study of the word of God. Click on the link below to download the audio messages on the revelation of Jesus by Apostle Michael Orokpo part 1&2.
The following audio messages have been recommended to you to check and download.