[Audio Message] Download Unction For Evidence By Apostle Johnson Suleman mp3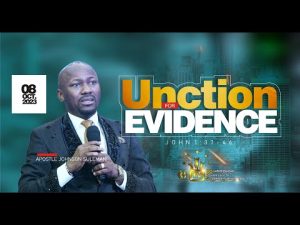 Unction for evidence by Apostle Johnson Suleman was the audio message on 08/10/2023. The highlights of the sermon are below.
Topic: UNCTION FOR EVIDENCE
Text: John 1:37-46
"Many People Are Seeking The Hand Of God Meanwhile They Can Have All Of God."
"Evidence Is A Desire For Every Follower Of Christ. Evidence Is Seeable, Evidence Is The Visible Manifestation Of An Intangible God.
Nothing Solidifies Your Faith In God Like Your Evidence.
Evidence To Command When The Unction Comes On You:
1. SETTLEMENT
– Settlement Is All Round Balance. Settlement Is All Round Fulfillment. Settlement Begins With A Verbal Desire.
2. FAMILY LIBERATION
– Your Failure Empowers Iniquity In Your Family. (Psalm 68:6, Jeremiah 5:1).
3. DESTINY INTERPRETERS
– Your Dream Remains A Dream Until An Interpreter Is Released From Heaven.
– Never Think You Can Achieve A Destiny Without The Involvement Of Men.
– Men Are God's Gift To Men.
Click on the link below to download the audio message on unction for evidence by Apostle Johnson Suleman.
Check out the following recommended audio sermons below.