THE ANOINTING TO FINISH By Apostle Johnson Suleman mp3 Download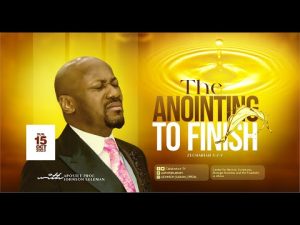 The Anointing to finish by Apostle Johnson Suleman was the third Sunday message in the month of October, 2023 at OFM international headquarters.  The highlights of the sermon are captured below.
Topic: THE ANOINTING TO FINISH
Text: Zechariah 4:7-9
"You Are Not Called A Success Because You Initiated A Project; What Makes You A Success Is When You Complete The Project."
How Do I Finish?
I) Pull Down The Mountain
– Behind Every Mountain, There Is A Human Hand. Psalm 24:7, John 11:50.
– You are not called a success because you initiated a project; what makes you a success is when you complete the project.
Categories Of Wicked People:
I) Those Who Deliberately Employ Demonic Strategies.
Ii) People Who Hurt You Without Knowing.
"It Is By Nature To Be Selfish But It Takes Wickedness To Be Self-Centered.
– When God brings people to you don't close your heart to them. Open your heart but don't let down your guard.
– It is by nature to be selfish but it takes wickedness to be self-centered.
When God Brings People To You Don't Close Your Heart To Them. Open Your Heart But Don't Let Down Your Guard."
You know the rest from the audio message. Click on the link below to download the audio message on the anointing to finish by Apostle Johnson Suleman.
DOWNLOAD AUDIO MESSAGE FILE HERE
Download Apostle Johnson Suleman 2023 Messages [All Audio Mp3]
Click on the links to download the following recommended audio messages