Download Preserving Territorial Revival By Apostle Joshua Selman (UK Conference 2023 -Day 2 Evening)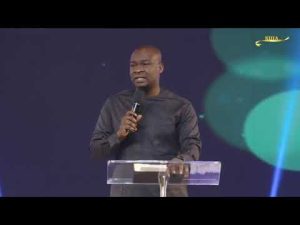 Preserving Territorial Revival by Apostle Joshua Selman was day 2, evening session at the UK 2023 conference by Koinonia. The highlights of the sermon Preserving Territorial Revival by Apostle Joshua Selman are listed below. It was the last session and a miracle and impartation service. The audio is available for download.
Kingdom advance is territorial. From a standpoint of revival, our mandate as believers is to keep:
1. God's Consciousness
2. Righteousness
3. The program of God
God's End-time Programme will Require Three Categories of People:
1. The Watchmen/Prophetic Intercessors. (Isaiah 62:1-7)
2. Saviours/The Sent Ones
_
These are the men and women sent across the seven mountains of influence.
3. The Kingdom Financiers. (Zechariah 1:17)
_
Men and women must be called into the Ministry of Finance with a purposeful approach to wealth.
Six Prophetic Keys Responsible for Preserving Revival in a Territory:
1. The Ministry of Warfare and Intercession. (Luke 18:1, 1 Thessalonians 5:17)
_
Prayer achieves many goals, including:
1. Being a tool for transformation
2. Obtaining requests and petitions
3. Prophetic legislation
4. Warfare and intercession.
2. A regular convergence of believers within that territory for training, equipping, and empowerment. (Acts 2:42).
3. An open display of the power of God. (Acts 19:11-20)
_
The power of God (miracles, signs, and wonders) provides supernatural solutions to the problems of men.
4. Intentional mentorship of the younger generation. (2 Timothy 2:2)
–
Revival will not be preserved and sustained if the younger generation is ignored.
I release the grace called favor; I stand by the rod of the prophetic, take that grace called favor!
I compel men to show you unusual kindness; receive access to structures, systems, government parastatals, and institutions.
By this impartation tonight, I curse emptiness from your life!
May my God change your financial situation and surprise you. Because of this conference, let Kingdom financiers arise!
I release the grace for evangelism, soul-winning, and righteousness. The grace that will make you serve the Lord acceptably and without compromise, receive that grace now, in the Name of Jesus Christ!
Click on the link to download the audio sermon on preserving territorial revival by Apostle Joshua Selman.
Download Here
Or Download the Audio Here
Recommended sermons for you