The Blessedness Of Marriage By Apostle Michael Orokpo Mp3 Download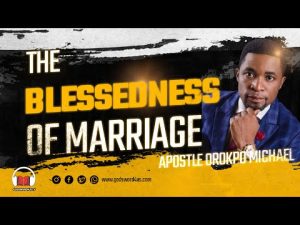 The blessedness of Marriage by Apostle Michael Orokpo  was a message that revealed how blessed it is to marriage. Marriage is a platform to exalts Christ and enthrone His kingdom.
Marriage as an institution established by God,  has His support.  God blesses marriage with several benefits apart from children.  The blessedness of marriage is seen in the light of the kingdom establishment and exaltation of God.
Christ blesses His church beyond measure and as marriage is of God,  daily benefits and favor comes upon it. Also,  the blessedness of marriage is on the platform of its honor. When you honor God with your marriage,  He will command His blessings toward it.
Click on the links below to download the audio message on the blessedness of marriage by Apostle Michael Orokpo.
Download Here
The Blessedness of marriage mp3 by Apostle Michael Orokpo
Click on the links below to download the following recommended audio sermons for you