Download The Difference Is Clear By Apostle Johnson Suleman mp3
The difference is clear by Apostle Johnson Suleman was the Sunday Sermon on 12/11/2023. The highlights of the sermon on the difference is clear by Apostle Johnson Suleman are stated below.
Topic: THE DIFFERENCE IS CLEAR
Text: Exodus 11:7
– Your connectivity to divinity is your immunity from adversity.
– Affliction and confrontation are God's tools for exemption and promotion.
"It Is An Error For What Killed The Sinner To Kill The Saint. God Always Makes The Difference Between The Clean And Unclean."
How Do I Enjoy That Prophecy?
i) Understand That There Is Something Written Concerning You.
ii) Understand That There Is Something Spoken Concerning You.
iii) Prophecy Can Be Gotten From What Has Happened. Your Family Patterns That Are Not Destroyed Can Become The Prophecy Of Your Life.
To enjoy your prophecy
i) Discover it:
– What has God said about you? Look for a scripture that responds to that need.
– A prophecy not discovered cannot produce.
ii) Personalise it:
– Personalise scriptures and know that God is speaking to you. Put your name in those scriptures and promises of God from His Word.
iii) Practicalize it:
– Self-deceit is to constantly hear the word and not put it into practice.
What Triggered A Difference In Israel: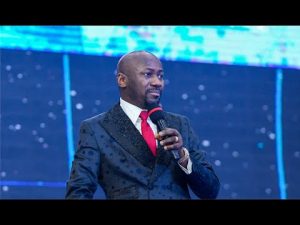 1. They Knew They Were People Of Prophecy:
– The Prophetic Is A Preservative. When You Carry Prophecy You Carry Prevention And Exemption.
– The Prophecy You Carry Is The Platform For Angelic Interference.
2. They had a Prophet:
– Your prophet is your guide that you guard.
– When the devil wants to ruin someone he makes the person look down on his or her prophet.
– After the gift of God and salvation, your Prophet is the next great gift from God.
"The Reason For The Present Calamity In The World Is Because God Is Intending To Create A Difference Between The World And The Church.
Your Connectivity To Divinity Is Your Immunity From Adversity.
Affliction And Confrontation Are God's Tools For Exemption And Promotion."
3. They had a God:
– They had a God that was standing with them.
– Before you get anything from the Kingdom of God, you must first be connected to God. You must be born again.
Click on the link to the audio sermon on the difference is clear by Apostle Johnson Suleman.
Download All Apostle Johnson Suleman Messages (Updated Till Date)
Check out these recommended audio messages below