[Koinonia Global Message]: Ichabod By Apostle Joshua Selman (Obtaining Grace to Last)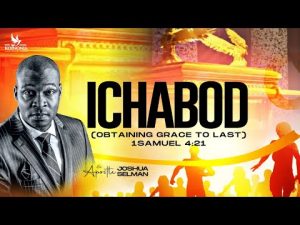 Ichabod by Apostle Joshua Selman was a Koinonia Global message that focuses on obtaining grace to last.  the highlights of the sermon on Ichabod by Apostle Joshua Selman are stated below.
As a great person who desires to last in today's world, you must have these three things:
1. Prophetic Intercessors who hold you up in prayers. (2 Thessalonians 3:1-2, 1 Peter 5:8)
2. A system of accountability for correction, advice, counsel guidance, and prophetic speakings over your life.
3. The gift of godly and faithful friends.
(Proverbs 18:24, Ecclesiastes 4:9)
The secret of every man that has remained in the business of kingdom-come, is their genuine passion and love for Jesus.
There are things only love will make you do.
It is not always about what you are saying, but who you are loving.
What you are saying may be right, but with no evident impact to show for it.
WHY GREATNESS IS SHORT-LIVED AMONG MANY:
1. Pride. (Proverbs 16:18, 18:12, 29:23, James 4:6-8)
Pride is the unashamedness or refusal to acknowledge God as the basis, the reason, and the principal factor for any result you may have.
2. An arrival mentality. (1 Corinthians 8:2)
One way to know champions is that they always carry an unassuming personality and attitude, with a passion for learning: They are forever students.
3. Distractions and Compromises. (Galatians 5:7-9, Philippians 3:13-15, Ephesians 4:7, Acts 6:1-4)
Your ability to discern your area of grace and to stay with it will profit not only you but also, The Body of Christ.
When you function within your area of grace, it insists that you function excellently, within that area.
Two Dimensions of Distractions:
a) . Getting into areas beyond the scope of your grace. (Ephesians 4:7)
b) . Abandoning and not protecting your focus or pursuit. (Acts 6:1-4)
4. Violating your winning strategy – either divinely given or built from years of pain, wisdom, and learning.
(2 Chronicles 15:12-15)
Exploits and victory are always strategy-dependent.
5. Unaddressed weaknesses and vulnerabilities. (Hebrews 12:1, Acts 24:16, James 1:19-20)
6. Loss of passion and fire for God. (2 Chronicles 26:5, Revelation 2:4-5)
Click on the link to the download the audio message on Ichabod by Apostle Joshua Selman (Obtaining grace to last by Apostle Joshua Selman at Koinonia Global service).
Download audio message file here
Download Apostle Joshua Selman Messages 2023
Recommended Audio messages for you, check them out below